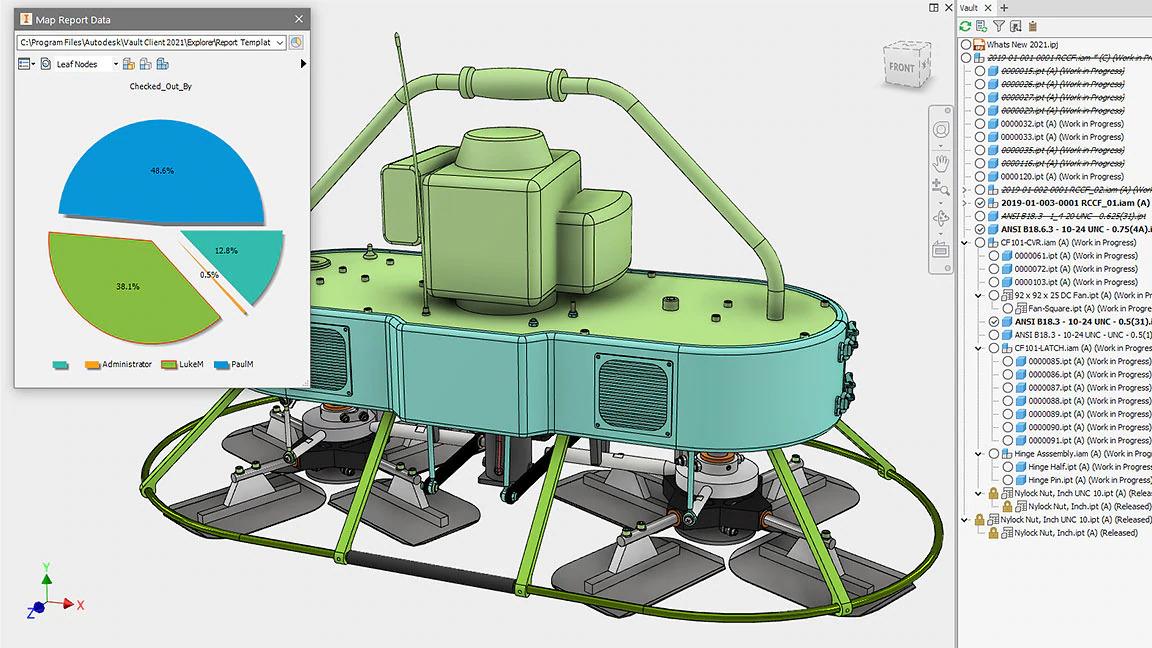 VAULT
Manage data, track revisions, and collaborate with PDM software
What is Vault?
Vault product data management (PDM) software helps streamline workflows. Everyone works from a central source of organized data—collaborating, reducing errors, and saving time.
Installs quickly with easy administration
Integrates with Autodesk design tools
Connects internal and external teams
Speed up product development with Vault PDM
Increase collaboration across the enterprise and with customers, suppliers, and contractors
Quickly find and reuse data so you don't have to start from scratch
Track changes, revisions, and design history automatically as you work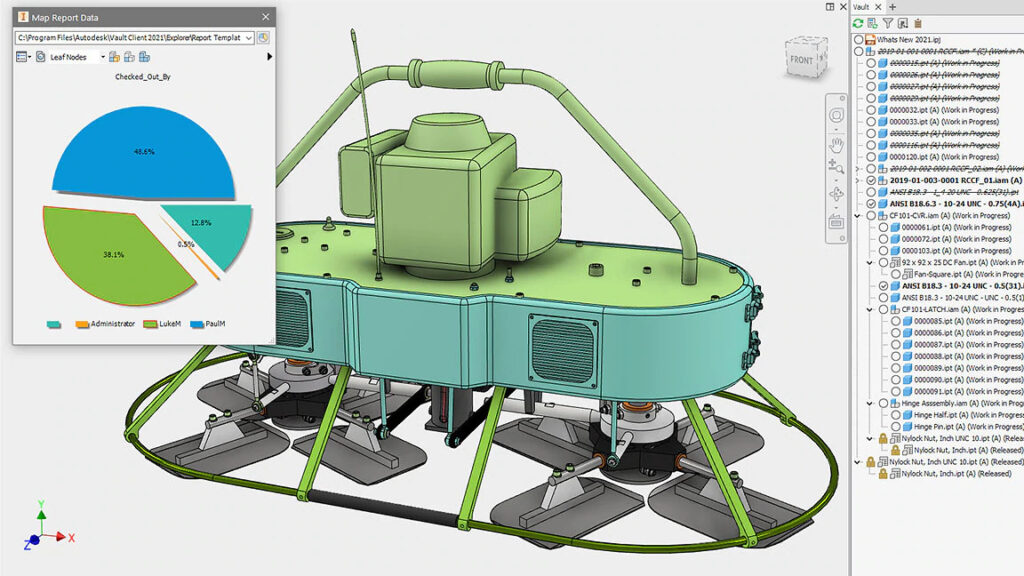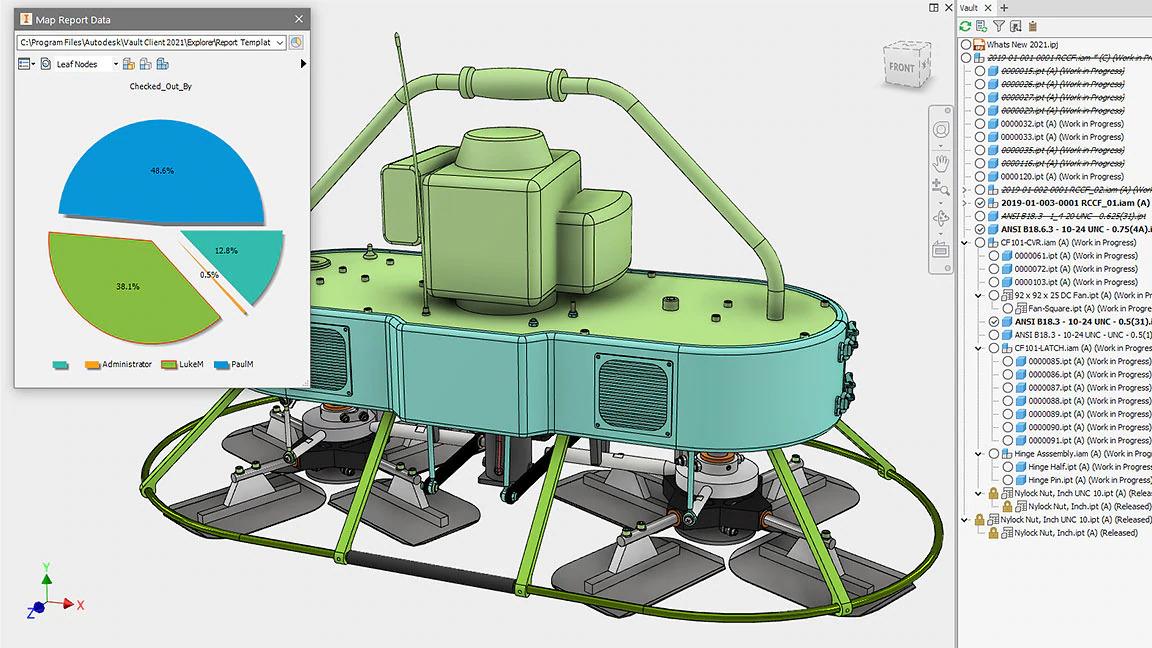 System Requirements For Vault
Autodesk recommends installing the latest updates for functional enhancements and the best overall experience. Updates are available for downloaded from the Autodesk Account portal or the Autodesk Desktop App.
Autodesk Vault supports only 64-bit operating systems.
Vault Server Requirements
Server Operating System
Operating System
Windows Server 2016* Standard, DatacenterWindows Server 2019* Standard, DatacenterMicrosoft Windows 10* Professional, Enterprise (Vault Basic only)
Database Servers
Single Site
Microsoft SQL Server 2016 Express, Standard, Enterprise (CU15 for 2016 SP2)Microsoft SQL Server 2017 Express, Standard, Enterprise (CU22)Microsoft SQL Server 2019 Express, Standard, Enterprise (CU8)
Full Replication
Microsoft SQL Server 2016 Express, Standard, Enterprise (CU15 for 2016 SP2)Microsoft SQL Server 2017 Express, Standard, Enterprise (CU22)Microsoft SQL Server 2019 Express, Standard, Enterprise (CU8)
CPU
Single Site
Intel® i7 or AMD® equivalent Processor, 2 GHz or higher (Minimum)Intel Xeon® E7 or AMD equivalent Processor, 3 GHz or higher (Recommended)
Full Replication
Intel Xeon E5 or AMD equivalent Processor, 2 GHz or higher (Minimum)Intel Xeon E7 or AMD equivalent Processor, 3 GHz or higher (Recommended)
Memory
Single Site
8 GB RAM (Minimum)16 GB RAM (Recommended)
Full Replication
16 GB RAM (Minimum)32 GB RAM (Recommended)
Disk Space
Single Site
100 GB disk space (Minimum)200 GB disk space (Recommended)
Full Replication
300 GB disk space (Minimum)500 GB disk space (Recommended)
Vault File Server Requirements
Server Operating System
Operating System
Windows Server 2016* Standard, DatacenterWindows Server 2019* Standard, Datacenter
CPU
File Replication
Intel Xeon E5 or AMD equivalent Processor, 2 GHz or higher (Minimum)Intel Xeon E7 or AMD equivalent Processor, 3 GHz or higher (Recommended)
Memory
File Replication
16 GB RAM (Minimum)32 GB RAM (Recommended)
Disk Space
File Replication
300 GB disk space (Minimum)500 GB disk space (Recommended)
Vault Client Requirements
Software
Operating System
Microsoft Windows 10* Professional, Enterprise
Browser
Internet Explorer 11
Hardware
CPU
Intel i3 or equivalent AMD Processor, 2 GHz or higher (Minimum)Intel i7 or equivalent AMD Processor, 3 GHz or higher (Recommended)
Memory
4 GB RAM (Minimum)8 GB RAM (Recommended)
Disk Space
6 GB disk space (Minimum)10 GB disk space (Recommended)
Thin Client
Browser Compatibility
Browser
Internet Explorer 11Microsoft EdgeChrome